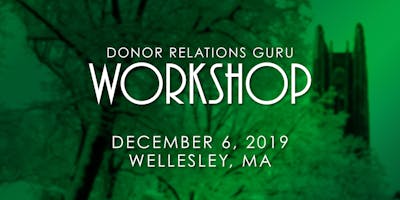 2019 Boston Workshop

The DRG Group is coming back to Boston with a brand new workshop - this time with special guest and nonprofit storytelling and social media maven, Julia Campbell.
Join us on December 6, 2019 for an exciting one-day workshop where we'll discuss approaches for attaining buy-in from key internal stakeholders, specific social media strategies that create community with your donors on a shoestring budget, and how to avoid controversy with major gift agreements and acceptance. We'll wrap up the day with a lively Q&A where we'll work together to find solutions to some of your toughest challenges. 
LOCATION: 
Wellesley College Club
727 Washington St.
Wellesley, MA 02482
COST: $300 per person ($250 if purchased before October 6, 2019)
Breakfast and lunch are included.
SPONSORS:
We're able to make our conferences affordable because of partnerships with our sponsors. Special thanks to our friends at ThankView and MSP Cultivate for all they do for us!