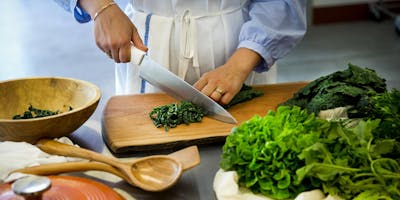 Market Test KITCHEN: Demo + Tasting

Market Test KITCHEN: Demo + Tasting
Presented by The Trustees
Join us on select Fridays during the lunch hour for Market Test KITCHEN. This program is designed to allow the community to sample new products and ideas from Boston Public Market vendors and other local artisans. In each session, participants will get to observe a demonstration of newrecipes and seasonally-available products!
Take a break from your day and join us to taste something new! Each demo comes with a small sample of food. Market Test KITCHEN is from 12:00-1:00 pm on various Fridays (see drop down box for full list). Make sure to check here often to see the updated schedule and topics.
Upcoming Demos:



November 15th | Thanksgiving Stuffing | Theresa from Chestnut Farms will demo a seasonal holiday stuffing dish using Chestnut Farms products!




December 6th | Holiday Desserts | Q's Nuts from the BPM will demo how to use their seasonal roasted nuts to create delicious Apple Crumble, perfect for holiday entertaining! 




December 20th | Plant-Based Cooking | Learn about the health benefits of eating a plant-based diet with Nutrition Educator Adriana Gambino. Adriana will teach us how to make delicious, easy to prepare, and budget friendly recipes - and everyone will get a sample!



Please RSVP so we can provide enough samples for everyone!
About The Trustees and The KITCHEN
As one of the largest owners of agricultural land and the premier steward of the cultural and natural landscape of Massachusetts, The Trustees extends its leadership to transform the local food system by connecting residents and visitors back to the land and sharing the Commonwealth's collective agrarian heritage through innovative retail and educational experiences at the Boston Public Market in the heart of downtown Boston.
The KITCHEN is a community gathering place, managed by The Trustees, that is restoring the craft of seasonal cooking in Massachusetts, New England, and beyond through hands-on classes and educational experiences that celebrate the farmers and artisans of this region. Partnered with the Boston Public Market, The KITCHEN embraces a whole-food approach to eating and promotes cooking as an essential cornerstone of a sustainable food system.
Join The Trustees and receive 20%-50% off all classes, workshops, and events at The KITCHEN and all Trustees properties.
Thank you for joining us in the KITCHEN! Please note that the BPM Garage at 7 Sudbury St will be closed from September 29th, 2019 to October 19th, 2019, so on-site parking is unavailable during those periods. We apologize for the inconvenience. The nearest parking garage is the Government Center Garage: https://www.governmentcentergarage.com/parking-rates-hours.html