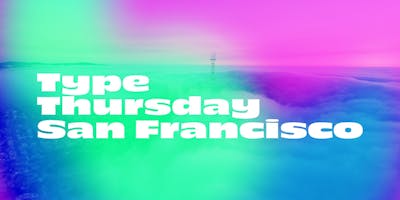 Type Thursday SF – December
Type Thursday SF is a semi-monthly gathering of San Francisco Bay Area type geeks, held at the San Francisco Center for the Book. 
Join us at each event to socialize and meet other designers and non-designers to network and catch up with friends over light drinks and snacks. Enjoy friendly conversation, networking with fellow designers, and participating in our Type Crit. 

The Type Crit is an open critique of designs or letterforms, no grades, no judgments. The discussion is moderated by our Type Thursday SF Dialogue Lead to foster a friendly forum for constructive, thoughtful advice and helpful tips.
Sign Up to present your work via our Submission Form. Sign Up Here





Should I go?
Of course, everyone is welcome, designer and non-designers alike.


Do I have to present?
Nope! Come and network, meet other designers, learn and observe, share feedback.
Your level of participation is up to you.

Why should I consider presenting at Type Crit?
Type Crit presenters get free admission, helpful advice, and insight from other attendees, as well as social media love and shoutouts to the Type Thursday community.

What kinds of work are shown at Type Crit?

All kinds of work. From hand-lettering and typeface design to UI and digital layouts and everything in between.


How do I submit work to Type Crit?
Upload your files via our Submission Form. Upload Files
Your work will be displayed using a projector hooked up to a laptop.


I have more questions!
Email our organizer, James Butler: james.butler@typethursday.org