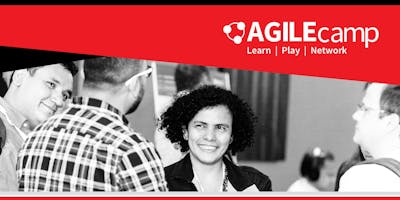 Agile: AgileCamp San Francisco 2019
Agile: AgileCamp San Francisco 2019
ADDED SAVINGS: Read below for the AgileCamp + CSM/CSPO/SAFe Certification Bundle Information
WELCOME TO AGILECAMP San Francisco!
AgileCamp is a one-day event that invites members of the Agile community to come together and explore new ideas and methodologies, listen to expert speakers, and network with like-minded individuals.
AgileCamp brings together Agilists, from novice to expert, to advance Agile knowledge within the community. We want to help you develop a culture that will empower success for years to come. A team of dedicated and experienced Agile coaches and practitioners are coming together to provide this high-quality conference for the 1200+ professionals attending AgileCamp 2019 this year.
Our AgileCamp events are held in several US cities, cities of the U.S., including Chicago, Portland, New York Metropolitan, Dallas, and San Francisco!
AgileCamp San Francisco will feature 3 Keynote speakers and 20 session Tracks presented by Agile experts and thought leaders. You'll be exposed to new ideas, hear from a group of diverse thinkers, and be able to put your skills to the test with hands-on workshops to help you to sharpen your expertise. The conference includes an action-packed day from 7:30AM-5:00PM, a light breakfast, lunch, morning and afternoon snacks and a free one hour networking hour to conclude the conference.
Who attends AgileCamp?
AgileCamp brings together creative minds united by their passion for Agile and Lean practices. It attracts professionals who are interested in improving their Agile and Lean practices. We gather to listen, learn, discuss and teach practices that help businesses succeed. People who attend have the roles in technology leadership (VP, Director of Technology), Program Managers, Project Managers, Product Managers, Business Agilists, as well as Product Owners, ScrumMasters, and Agile Transformation Leaders.
Attending with multiple members of your team? We offer group discounts! Contact us for details: info@agilecamp.org.
In Collaboration with AgileCamp, Hyperdrive Agile Leadership is Proud to Present:
Official Certified ScrumMaster CSM by Scrum Alliance
&
Official Certified Scrum Product Owner CSPO by Scrum Alliance
Want to enjoy AgileCamp and get certified?  Earn your ScrumMaster or Product Owner certification & then connect with us at AgileCamp San Francisco to network among the world's leading Agile experts.
Taught by Silicon Valley Tech Executive and Agile Expert, Eric Rapin. Earn 16 PDUs.
PDU and SEU Credits: Course provides 16 SEUs of the 70 needed for the Certified Scrum Professional (CSP) certification. This course also earns 16 PMI PDUs and 16 needed for the PMI-Agile Certified Practitioner (PMI-ACP) certification and PMP certification.
Register today for our bundle package to save! $1199 CSM, CSPO or SAFe certification + AgileCamp San Francisco. Visit www.HyperdriveAgile.com for a full list of courses. 
FAQs
How can I contact the organizer with any questions?
For more information, visit our website: agilecamp.org or email us at info@agilecamp.org.
What's the refund policy?
Refunds are not permitted on or after 11/26/19.