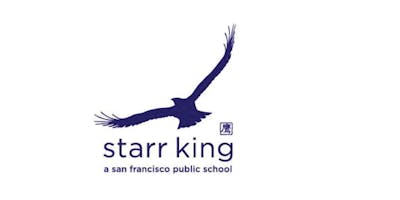 Starr King Elementary School Tour
SFUSD Starr King Elementary School Tour
Led by parents who have children attending Starr King.

WELCOME TO STARR KING!! 
Starr King Elementary
Located on the southwestern slope of Potrero Hill in San Francisco, Starr King Elementary School serves students from the immediate Potrero Hill neighborhood as well as San Francisco at large. Honoring the spirit of our school's namesake, Thomas Starr King, our diverse student body of 360 students comes from all kinds of families. The staff and parents are proud that our school serves the community as a gathering place, a learning place, and a place where every child is both respected and challenged to reach his or her potential.
Our school offers 4 distinct programs to serve our students. These include a Pre-K program, a Mandarin Immersion Program, a General Education Program and a Special Day Class program that specializes in educating and supporting children with autism.
PLEASE SELECT ONE TICKET PER FAMILY.

The front entrance of the school has been changed to Coral Street, between Carolina & Wisconsin St .  Please enter the front gate and head towards the main office.  There, signs will direct you to where the tour will begin.  Looking forward to meeting everyone.