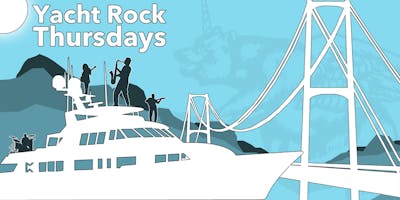 Yacht Rock Thursdays
Sometimes the seas of life are choppy. Luckily, it's always blue skies and smooth seas at Yacht Rock Thursdays. From 5-6pm EVERY THURSDAY we WILL play nothing but the smoothest Yacht Rock radio in the bar. And remember, when your friend is drowning in a sea of sadness you don't just throw them a life preserver. You swim one over to them.
Let's set sail...
---
PianoFight's not just a theater, it's also a restaurant and bar!


★★★★½ on Yelp
★★★★½ on Google
★★★★★ on Facebook
"Reasonably priced New American bites and cocktails in an unpretentious setting" - Zagat
"The best party spot in the neighborhood" - The Bay Bridged
"A hot SF scene" - SF Chronicle
This show takes place in our restaurant. So you may eat and drink during the performance. Seating is first come first serve.
PARKING
Street parking is free after 6pm. We're located 2 blocks from Powell BART, numerous muni lines and there are 3 parking lots within 1 block.