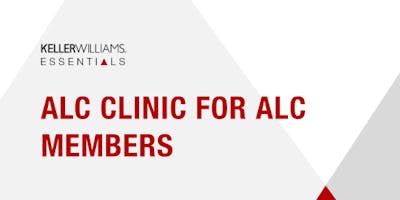 2019 ALC Clinic for ALC Members
In this results-oriented course, Associate Leadership Council (ALC) members work with their leadership teams to construct strategies that will lead to their success as businesspeople and as leaders in their market center. This course was designed to help ALC members achieve their personal and professional goals through the unique leadership opportunity of ALC membership.
Objectives:



Delve into your opportunities to achieve through membership on the ALC.




Experience actions that can help you grow your passive income, increase your productivity, accurately project your net income, and create a company you would never want to leave.



Audience:



Operating Principals




Team Leaders




Market Center Administrators




Productivity Coaches




ALC Members




Potential ALC Members



Please take note:  The start time of the event is 8:30 am.  Registration will be available at 7:30 am.  This is a very polular event so BRING YOUR TICKETS.  IF YOU DON'T HAVE YOUR TICKET YOU WILL BE ASKED TO PULL IT FROM YOUR EMAIL. I would strongly recommend that you print the ticket that will appear in your email a few minutes after you register and put it in your glove compartment.  BRING A SWEATER.  It's a lot easier for you to be toasty with a sweater than to have to cool down a ballroom to wake everyone up from a lunch coma!  :)
TERMS and CONDITIONS - Please read carefully before registering as they have recently changed



An Eventbrite fee of 2.5% plus $.99 per ticket will be added at checkout.




Full-priced registrations may be cancelled within 48 hours after registration for a full refund.




After the initial 48-hour time frame and within a full 30 days prior to the start of the event, full-priced registrations may be cancelled, less a 30% cancellation fee or $50, whichever is the higher amount. After that time frame, registrations are NON-REFUNDABLE.




Registrations CANNOT be transferred to a future event.




Registrations are fully transferable for this event only.  Contact the event organizer.




The transfer to another associate can only be used once.




The transfer to another associate cannot be used for a future offering of the same event, or any other event.




Registrants who do not attend, "no-shows", will not receive a refund.




All refunds and cancellations must be requested in writing to the event organizer.




The registration fee includes instruction and materials.