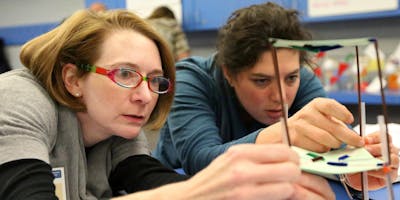 Teacher Educator Institute December 2019
If you're a professional development provider, this workshop prepares you to facilitate EiE professional development workshops for teachers in your school, district, or state. Like all EiE workshops, our Teacher Educator Institute is hands-on and learner-driven. You'll develop a deep understanding of the pedagogy and structure of the EiE curriculum. And you'll take away a large collection of valuable resources to help you facilitate your own EiE workshops.
Workshop Information:
Location: Museum of Science, Boston

Cost: $500 until November 19, 2019 - $550 on and after November 19, 2019
Audience: Teacher Educators, capped at 24 attendees
Click here for a hotel and transit map
Cancellations must be made at least two weeks prior to the workshop to receive a full refund. Cancellations made within two weeks of workshop will receive a partial refund.