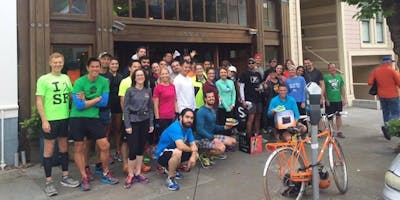 A Runner's Mind Run Club Winter 2019
Whether you're looking to notch your first half marathon, post a personal best, get faster, conquer the trails, reduce the risk of aggravations/injuries, or just meet some cool people to run with, A Runner's Mind Run Club produced by Marathon Matt will have you covered.
FYI, the first FIFTY people to sign up part-time/full-time (see details below) score an AWESOME, long sleeve Run Club tech tee! 
RUN CLUB WORKOUTS(11/16-2/2, 3 workouts per week to choose from):



Tues. night maintenance runs @ 6:30PM (Downtown)




Thurs. night speedwork @ 6:30PM (Kezar Stadium)




Sat. long runs @ 9:00AM (various locations in SF)



RUN CLUB PARTICIPATION OPTIONS ($75-$150):



Full-time participation includes access to ALL workouts ($160).


Part-time participation includes access to TWO workouts ($130).



Long runs on Saturdays @ 9:00AM 

ONLY

 

($110)

 



Speedwork OR Wildcard Runs on Thursdays at Kezar @ 6:30PM ONLY ($95)


Tues. night maintenance runs @ 6:30PM (Downtown) ONLY ($80)


ALL Run Club participants also receive the following perks/amenities:


$20 giftcard @ A Runner's Mind (for purchase of $80+)


Technical training shirt (for new Run Club members)



20% off any/all Sasquatch Racing events


10% standing discount on any/all massage & bodywork at PSOAS Massage/Bodywork. 20% off at Tues.night maintenance runs (downtown).




USATF/RRCA certified coaches




Comprehensive Half Marathon Training Schedule




Multiple Training Levels (Beginner to Advanced)




A twice weekly email newsletter supporting your training.



Clinics/Seminars with PSOAS Massage+Bodywork and more.



'Secret' facebook group for finding running partners, carpooling, sharing photos, connecting with your coaches, etc.




Club social events (bar nights, team dinners, etc.)!



100-150 fun teammates to train with!


Target Race(s): The Kaiser Permanente SF Marathon (Sun, 2/2/20)
Support our 'fitlanthropy' partner, Back on My Feet San Francisco!
Back on My Feet San Francisco is a not-for-profit organization that uses running and community to motivate and support individuals every step of the way from homelessness to independence.
There's a donation field for Back on My Feet San Francisco in the registration process. We'd encourage you to support this awesome cause!
Not sure if Run Club is right for you?
If you can cover two miles (at roughly 12:00/mile), you've got enough running fitness to train with us.
But, don't take our word for it. Check out some Yelp testimonials and a few videos that shed some light on what you can expect!

Questions about the training?
Contact MARATHON MATT-MARATHONMATT@MARATHONMATT.COM