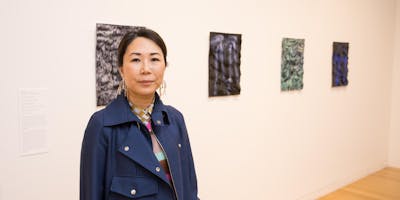 Gallery Talk with Artist Lucy Kim
Join artist Lucy Kim and curator Sarah Montross for an in-gallery conversation about her work in relation to photographs in All the Marvelous Surfaces.
FREE admission; registration requested
ABOUT LUCY KIM
Lucy Kim's artwork explores relationships of photography, sculpture, and painting. She creates rubber silicone casts of body parts, animals, or vegetation which she then distorts, flattens, and assembles into patterned textured reliefs. The works are born from a range of influences, from Renaissance death masks to the manipulation of genetic codes.
Kim earned her BFA in Painting from RISD in 2001 and her MFA in Painting and Printmaking from the Yale School of Art in 2007. She is the recipient of the 2017 James and Audrey Foster Prize and the 2015 Boston Artadia Award. She was a fellow at the Yale Norfolk Summer Program and the MacDowell Colony, as well as a participant at the Skowhegan School of Painting and Sculpture. Her work has been exhibited at the ICA Boston, Fitchburg Museum of Art, Lisa Cooley, Brooklyn Academy of Music, Institute of Fine Arts-NYU. She lives and works in Cambridge, MA and is Assistant Professor of Painting at Boston University.
Image: Lucy Kim, So Long Waves (detail), 2014, oil paint, urethane resin, epoxy on Dibond panel, 52 x 41 in. Courtesy of the Artist. Photo: Tony Luong.