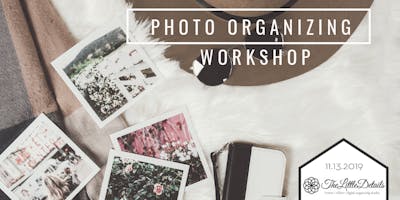 Photo Organizing Workshop at The Little Details Organizing Studio
Do you have mountains of photos that need organizing, or albums that could use some updating? We can help! Learn how to organize your photos so they stop taking up so much space in your house and on your computer. We'll walk you step-by-step through what you need to know to purge and organize your physical and digital photos. The purpose of digitizing and organizing your memories is to share them with family and friends. Do you have a photo album or special project you want to complete before the holidays? Come join us to learn how to best tackle those daunting photo projects. 
Things we will cover:
❈ How to consolidate all of your digital photos in one place 
❈ How to systematically purge your digital and physical photos
❈ How to organize your digital and physical photos 
❈ How to correct metadata on your digital photos so that they show up chronologially 
❈ How to digitize photos, slides, negatives, VHS tapes, film reels, audio tapes & more
❈ How to backup your photos 
Other Details:
❈ There will be light hors d'oeuvres and refreshments.
❈ Metered street parking is available.
❈ All workshop attendees will receive 10% off products in the studio on the day of the event.
This workshop is brought to you by: 
❈  The Little Details, providing clients with professional home, office and digital organizing services.