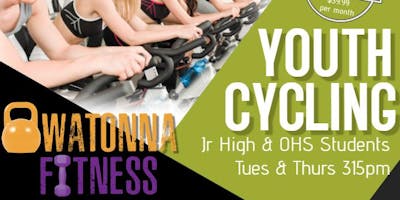 315pm Athlete Cycling (youth class) WEDNESDAY
WEDNESDAY's!!
50% OFF REGULAR PRICE
UNLIMITED CYCLING for ATHLETES - ONLY $39.99/mo
paypal.me/owatonnafitness/39.99

Increase cardio endurance and take fitness to the next level.  For 6th grade - 12th grade.
Regular drop in price is $15 / class -- this is less than $40 for an entire month!
(UNLIMITED pass can be used for the 315pm 'youth only' classes and also for the 'regularly scheduled' classes)