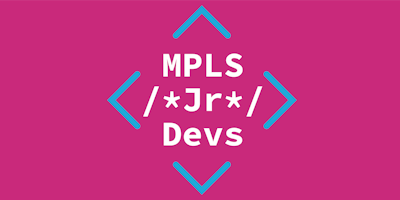 Mpls Jr Devs #29

This event is for aspiring and less experienced software engineers to meet, learn from, and share experiences with one another.
Any and all experience levels, ages, races, ethnicities, religions, sexual orientations and personal pronouns are welcome.
Who this event is for


Aspiring software engineers


Less experienced software engineers


More experienced software engineers who want to help


What to expect
Expect to meet other like-minded people.
When you arrive, you'll be asked to put your name & how you learned to code on your name tag.
There will be ample time to get to know each other, both before and after presentations.
What's the schedule?


6:00 - 6:45pm: Social time


6:45 - 7:00pm: Welcome & introductions


7:00 - 7:45pm: Presentations


7:45 - 8:30pm: Social time


Presentation
Automate All the Things - Brianna McCullough

Introductions
Introductions will be done in a small group format. Each person will be asked to briefly introduce themselves and share an experience with something that's currently challenging them.
After 10 minutes, we'll break from our groups and move on to presentations.
Getting there
Prime Digital Academy is located at 301 4th Ave South #577, at the corner of 4th Ave S and 3rd St S, in the north building of the Minneapolis Grain Exchange. The building doors lock at 6pm, so either get there early, or look for a person or sign on the door with instructions on who to call to get let in.
We recommend public transit or biking - Prime is located one block from the Government Plaza light rail station, many bus stops (see below), and a couple bike-friendly roads.



Bus: the 3, 7, 16, 50, 94 bus lines run along 4th St. Prime is also a block over from the Gateway Ramp and Transit Hub, which is a terminal for many urban and suburban bus lines.



Bike: There isn't indoor bike parking, so you'll need to lock up outside.



Car: If you're driving, we recommend parking in the Gateway ramp, where we've got coupons for discounted parking. But parking is also available on the street or in the Haaf ramp.


FAQ
I'm an experienced developer. Can I be a mentor?
Absolutely! Our members would love your mentorship, but space at our events is limited. If you're interested in mentoring or advising the folks in our community, please email us so we can coordinate the best way to facilitate that.
Will there be food?
Yes! There will be food and non-alcoholic beverages.
Please email us within a few days of your registration to let us know if you have any dietary restrictions, and we will do our best to accomodate them.
Where can I get more information?
Lots of ways! We've got a website, a Slack group, and will be sending out emails to announce future events. But for now, just email us and we'll point you in the right direction.
CODE OF CONDUCT
All event attendees are expected to have read and abide by our Code of Conduct.
SPONSORS