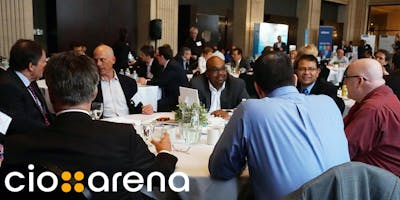 CIOarena San Francisco 2019

CIOarena™ summits are world-class technology events; providing attendees with expert insights that can be integrated into their professional roles to help optimize and secure their organizations. CIOarena™ will unite San Francisco-area IT executives and professionals in a day of intimate networking, industry-led discussions, and a delicious five star breakfast and lunch. Explore the most relevant topics in IT today, in an executive driven educational format.  
The most successful executives will agree that a key attribute to growing ones professional profile, is the power to develop key relationships both internally and externally. CIOarena is designed to take you to the next step in strategic relationship building via our intimate peer-to-peer networking sessions. All attendees are local to the San Francisco Metropolitan area, thus enabling you to boost your career by developing strategic relationships within your community, while comparing and contrasting the successes and pitfalls of peers across all industries and disciplines. 
Become a transformational leader by leveraging the newest technologies for a competitive advantage. The insights and best practices shared by our renowned industry experts will guide you in the right direction and the knowledge you walk away with is invaluable. CIOarena's short, no-frills agenda ensures that you reap maximum reward with minimal time wasted. As an invitation-only conference, there is no cost to attend CIOarena. This amazing conference is funded through the support of 10 key sponsors and contributors. In order to provide the best experience possible, CIOarena is a vendor-limited environment with no more than 10 vendors at any one event.
*In order to provide a standard of excellence, CIOarena is an invitation/referral-only conference. If you have not been referred by a current guest or contacted by one of our event organizers, your registration will need to be reviewed and approved by the organizer. A CIOarena representative will reach out to you in the event that your registration is approved or not approved. 

Pre-Requisites to Register





Must bear an IT/tech-related title at the manager level and above (e.g. Manager, Director, VP, CXO, Head, etc)








Title can not be related to sales, marketing, consulting, recruiting, or of the such








Companies smaller than 50 people must be reviewed prior to confirmation








Organization may not be from an IT vendor, IT solution provider, or IT consulting firm, unless revenue exceeds $750 million in revenue








Company must have a valid company domain (no personal emails) and a functioning website








All of the above must be true unless you have received a personal invite to attend