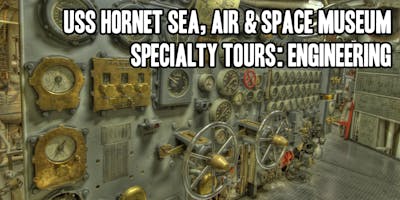 USS Hornet Aircraft Carrier Propulsion Engineering Tour
Aircraft Carrier Propulsion Engineering Tour (Engineer's Perspective)


Join a veteran carrier engineer on a 2.5 to 3-hour tour and explore the ship and her spaces from the perspective of personnel who maintained and operated the ship's engineering spaces! This tour gives our visitors an in-depth feel of a day in the life of enlisted and officer engineering personnel in the course of a normal day at sea or in port. It would be a specific and semi-technical tour and discussion of the main engineering spaces including how main propulsion affects all other areas of the ship from being anchored or import steaming auxiliary, or in port cold iron, to lighting off the plant, getting underway, getting meals and showers to aircraft handling and flight operations.
Spaces Visited May Include


Number 2 Fire Room


Forward Engine Room


Marine Berthing Compartment


3

rd

 Deck Ships Diagrams and Liquid Load Diagram/Log Room


Forward Diesel Generator


Enlisted Crews Mess/Galley


Ward Room/Galley


Junior Officer Berthing


Forward Auxiliary Space (after restoration is complete)


Times
The tour takes place the second Tuesday of every month and starts at 10 AM.
Rates
$20.00 per person
Advance reservations and payment required. No physical tickets will be mailed out. These tours are "Will Call" only.
For FAQs and other information, please visit our "Specialty Tours" webpage.