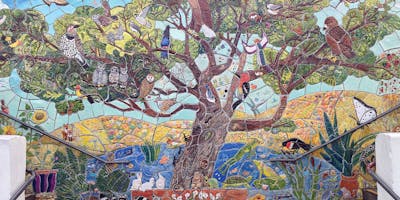 Alvarado Elementary School Tour (2019) • Recorrido de la Escuela Primaria Alvarado (2019)
Come tour Alvarado Elementary School! We are a dual-immersion TK–5th grade school with 500+ students in San Francisco's sunny Noe Valley neighborhood. We offer four programs: Spanish Immersion, General Education, Transitional Kindergarten and Special Education. 
Tuesday morning tours start at 8:10am sharp on Tuesday in the cafeteria. Our December evening tour starts at 5:00pm. They begin with a Q&A session in the cafeteria. 
Our Dia de Los Muertos festival is our annual community event full of vibrant and fun activities for the whole family. The school tour offered this day will showcase our community at its best. Come for the tour and stay afterward for the fun and to enjoy our community in action! 
Please only book for one tour... and if something comes up PLEASE cancel your ticket. We have a limited number of spots available and we want to ensure that everyone gets a chance to tour the school.
---
¡Venga a un recorrido de la Escuela Primaria Alvarado! Somos una escuela de doble inmersión de TK-5to grado, con 500+ estudiantes en la colonia soleada de Noe Valley en San Francisco. Ofrecemos cuatro programas: Inmersión en Español, Educación General, Kindergarten Transicional y Educación Especial. 
Nuestro fieta de Dia de Los Muertos is nuestro evento comunitario anual lleno de actividades divertidas para la familia entera. El recorrido ofrecido ese dia mostrara nuestra comunidad en su mejor estado. Venga para el recorrido y quede despues por la diversion y para disfrutar de nuestra comunidad en vivo!
Por favor, solo reserve para una excursión ... y si surge algo, POR FAVOR, cancele su entrada. Tenemos un número limitado de plazas disponibles y queremos asegurarnos de que todos tengan la oportunidad de recorrer la escuela.