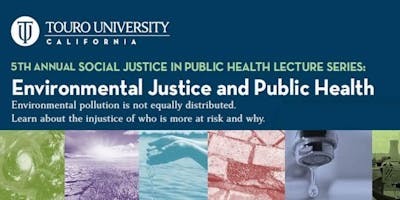 Social Justice in Public Health: Environmental Justice
Touro University California Public Health Program

2019 Social Justice & Public Health Lecture Series: 
Environmental Justice & Public Health
Lander Hall A, 105 Owen Drive, Vallejo CA 94592 Drive, 5 pm – 7 pm
We know that we affect the environment, but how does the environment affect us and our health?
Our attention to environmental health issues is often the result of emergencies: Zika virus outbreaks; Flint, Michigan's water crisis; Hurricane Katrina.  Join us for a series of 6 lectures by nationally recognized leaders in the field as we expand our awareness of the ongoing impact of environmental risks on our health through a lens focused on social justice - particularly the disproportionate risks borne by low-income communities and communities of color.
Lectures are open to the public and free! Registration required. 
8/26: Environmental Justice Overview: Vien Truong, JD    
9/9: Water Justice For All: Mona Hanna-Attisha, MD, MPH | Phoebe Seaton, JD
9/23:  Climate Change - Impacts on Indigenous Health:  Tom Goldtooth, Executive Director of the Indigenous Environmental Network and Co-Founder of Environmental Justice Climate Change Initiative
10/7: Climate Justice & Resilience: Jacqueline Patterson, MSW, MPH
(Reception immediately following)
10/28: Environmental Justice Struggles from the Frontlines:  Dalila Adofo, GreenAction for Health and Environmental Justice | Andres Soto, Communities for a Better Environment | Hektor Calderon, Pesticide Action Network
11/11: Community Action for the Environment: Equity and Economy:  Veronica Eady, JD