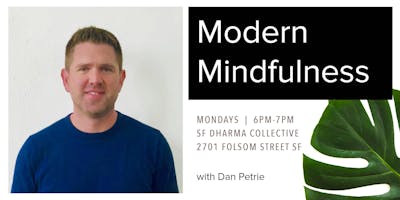 Modern Mindfulness (Every Monday 6-7PM)
Every Monday from 6:30-7:30pm we come together as a group to practice mindfulness meditation at the San Francisco Dharma Collective. I'm a Trained Mindfulness Facilitator through UCLA's Mindful Awareness Research Center, and we'll practice using a variety of evidence based methods designed to mitigate stress and anxiety, improve sleep, increase empathy and compassion, and promote overall well-being. Come as you are. We have mats, cushions and chairs. These sessions are also excellent for those either in, or just finishing a MBSR or MBCT series.
In each class, there will be guided meditation, a talk about the practice and community Q&A. No prior experience with meditation is necessary. All are welcome. Suggested donation is $10-20. No one will be turned away for lack of funds. 
For more information on the teacher head to Mind EQ. Send an email if you have questions!