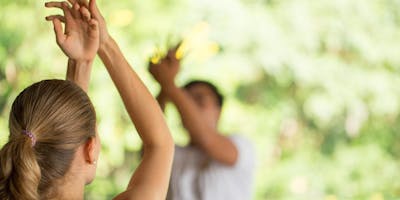 Beginner Tai Chi - Monday Evenings
Beginner Tai Chi - 4 Week Series
Classes PreRegistration Required
The healing benefits of a Tai Chi Practice are amazing.
Tai Chi is an internal practice, encouraging oxygen exchange within the body and the organs. The practice encourages brain growth with new and strengthened neurological pathways. It is a "Moving Meditation" and an art that cultivates happiness, and strengthens the individuals and groups who practice together.
Tai Chi is an ancient practice that helps support a healthy life of balance and well-being.  
In this introductory class, you will learn the basic principles while practicing  the beginning foot and hand work.  Tai Chi is often referred to as "moving meditation", and each class will begin with a short standing meditation to tune in to our bodies and breath. 
Tai Chi can help improve balance, calming the mind, staying fit and active through it's smooth flowing movement.  No experience necessary to begin. 
The benefits of regular Tai Chi practice are numerous:
*Tai chi energizes the whole body and gives you more energy that makes you feel alive, well and vital.
*Tai chi practitioners experience a sense of aliveness, of vitality. They gain more coordination, balance and a simple confidence in moving.
*Tai chi offers a way to truly relax. The rhythms of bending and stretching in tai chi help to relax the body and to free it from mental and physical tension and stress.
Tai Chi can:
*Alleviate hypertension through tai chi
*increase blood flow
*help the joints and mobility
*strengthen the immune system
*help with balance and coordination
*help with mental clarity
*increase calmness, creativity and deeper sleep