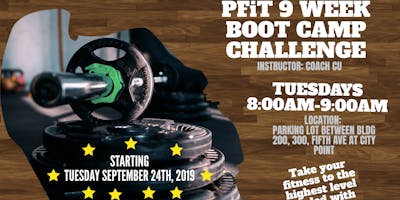 PFiT Boot Camp Nine (9) Week Challenge
FALL INTO FIT!!! Fifth Ave at CityPoint!!!
Come join our fall PFIT Boot Camp Challenge!!!
Take your Fitness to the Highest Level through Challenging Drills, Stamina inducing Runs, Strengthen Abs/Core and More! 
End result goals: Tighter and Leaner Muscle Mass, Stronger Abs & Core, Power and Agility. Our coaches will challenge you towards accountability to improve your health, nutrition and fitness habits. Reinvent yourself and get Performance Fit!
Registration: Tuesdays 8am - 9am
Please complete forms before training:
Liability Waiver Form:
https://forms.gle/VprmAaDuq7Ym3UcV9
Consent Form:
https://forms.gle/iD1ARpjVbk2bw77Q8