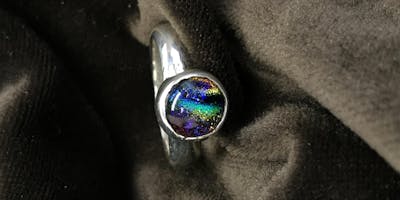 Intro to Jewelry and Metalsmithing
6-week class. Metalsmithing is typically defined as the practice of forming and fabricating metal into jewelry. While most commercial jewelry is crafted in gold, silver, and platinum, in this course you will work in copper, brass and/or silver.
This 6-week class will cover essential metalsmithing skills such as sawing, filing, soldering, and texturing metal. Other jewelry techniques may be covered as well, such as setting a cabochon stone through the use of a bezel setting. Students will then use all of these skills to design and produce finished pieces of wearable jewelry. Instructor: Melanie D. Krauss




Skill Level: All (Ages 16 +)



Class Size: Minimum 4 / Maximum 6



Tools Required: none



Location: Studio A


6-week sessions. Thursdays, 6:00 pm – 8:30 pm (No class 11/28 - Thanksgiving Day).
$185 Members / $215 Nonmembers
Materials Fee: $45 (Please pay to instructor at first session)