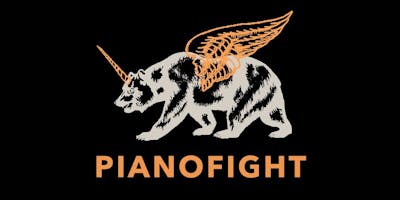 The Manic Monday Open Mic
The Manic Monday Open Mic is a weekly-ish stand up open mic. Show up after 5pm (when the bar is open!) to sign up.
To sign up for this open mic, please message the producer, Kelly Evans, on his FaceBook: https://www.facebook.com/kmevans
To watch just come by 15 before the show to be seated!
---
PianoFight's not just a theater, it's also a restaurant and bar!
★★★★½ on Yelp
★★★★½ on Google
★★★★★ on Facebook
"Reasonably priced New American bites and cocktails in an unpretentious setting" - Zagat
"The best party spot in the neighborhood" - The Bay Bridged
"A hot SF scene" - SF Chronicle
If you plan on dining, we recommend you arrive 1.5 hours early so you have plenty of time to eat before the show. Restaurant seating is first come first serve. Drinks are always allowed in the theaters.
PARKING
Street parking is free after 6pm. We're located 2 blocks from Powell BART, numerous muni lines and there are 3 parking lots within 1 block.