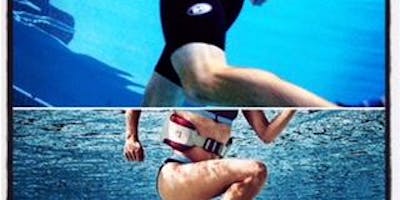 10am Monday (Redwood City) Deep Water Workout (Heather)
This 45 minute heart-pumping deep water workout consists of a warm up, running intervals, strength building exercises & cool down. All of the exercises are performed using a buoyancy belt in water deep enough that your feet do not touch the bottom. Our buoyancy belts comfortably suspends you at shoulder level, allowing you to move freely and egage multiple muscle groups.  Deep water running is a commonly recommended rehabilitation tool for sports injuries, but it's also a fitness and accelerated training method used by athletes and aquatic exercise fans.
To purchase a package at a lower rate, register for classes at coastalaquaticfitness.com using the desired promo code package. There is no up front cost to purchase a package. We ask that you use your package of classes within 90 days of your 1st class enrollment using the discount code.
*Package classes can only be purchased individually. You will enter the package promo code each time you register for a class. 
Package #1 - 5 Classes @ $25.00 per class. Use promo code "CAF25" at registration. Must be redeemed within 90 days .
Package #2 - 10 Classes @ $20.00 per class. Use promo code "CAF20" at registration. Must be redeemed within 90 days.
*Thank you for honoring our 24-hour-notice cancellation policy. Our small classes fill quickly:-) If you are unable to give sufficient notice, you are responsible for the fee of a missed class.
*A class can be rescheduled only if 24-hour notice is given.
* If a class has only 1 booking, it could be cancelled. If the class you've enrolled in is cancelled, we will contact you to reschedule.