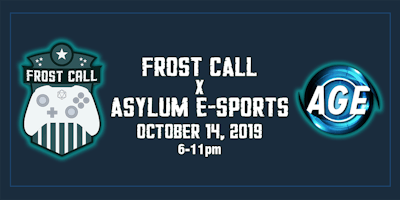 Warrior Game Night
Come join Frost Call for a gaming social just for vets, active duty, and reservists (civilian guests/family welcome) at Asylum Gaming and eSports! Located in beautiful downtown Seaport, Asylum gaming has an awesome setup complete with:
- Tons of consoles. XB1, PS4, and Switch set up for plugging in and chilling out.
- Tons of modern games. Madden, Call of Duty, Halo, God of War, Spiderman 4, Mario Kart, Smash Bros., and more.
- Tabletop games, including TCG like Magic the Gathering and hits like Root, Clank, and Azul.
- A full-on Halo LAN! Relive the glory days as we somehow fight the online modernization and get 16-player Halo matches going on in the same room. Vets caught looking at their opponents screen will be punished with 15 burpees.
- Smash Bros. Tourney! Smash Bros. Ultimate will be main stage with a tournament bracket. Entry fee is included with your ticket. Show us your moves!
Cash bar will be available. Event is 18+
Come out, meet up with fellow vets, and have a good time. Hope to see you there.