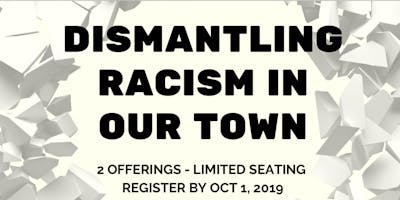 Dismantling Racism in Our Town
Dismantling Racism in Our Town
A 6 session conversation and reflection series starting October 14!
This program is an interfaith community effort between: First Parish UU, Follen UU, Redeemer Episcopal, and Temple Isaiah, specifically for the greater Lexington community, with an intent to inspire leaders to an ongoing process of transformation through facilitated conversation and individual reflection. White participants might expect to "sweat a little", as they will be asked to examine their own complicity and role within the existing power structures of our culture, particularly recognizing the responsibility to confront the legacy of white supremacy and privilege. The goals of the course are to engage participants' hearts and minds, create a community of accountability and collaboration, and advance Lexington community conversations around race and privilege. We hope the result will be a group of local leaders more committed to racial equity, humility, and constructive relationships.


Taking place this fall—2 groups: 16 participants per group;


Meeting over six Monday Evenings (7-9 PM) OR Friday Mornings (10 M - 12 PM);


One section starts Monday, October 14th, the other starts Friday, October 18th, 2019;


Ends Monday, Nov. 18th OR Friday, Nov. 22nd;


Must be committed to attend all 6 sessions with your group;


Sign up by Oct. 1st - signing up for Eventbrite Ticket does not guarantee your spot in the fall series. If more people sign up than we have space for in the fall series, you will be offered the first chance to sign up for the spring series.



Target audience: Members of the greater Lexington-plus community (within communities listed above) who are invested in going deeper with anti-racism work. Program is open to people of all races and ethnicities, with caucusing elements built into the program to allow for in-session checking in.
Facilitators will be lay leaders from First Parish and Redeemer: Their role is primarily as true facilitators of conversation, and not as "experts". Program is intended to be repeated (starting with a second round of the same format and content to be offered in early Spring 2020), and is being designed with a view to raising up and training new generations of facilitators for future iterations of the course, avoiding burn-out and encouraging on-going evaluation, learning and improvement.

For more information about this series, please contact Bill Vogele directly at - vogelewi@gmail.com
When you register for this course, either the Monday or the Fridays meeting times, you are committing to all 6 sessions. 
Meeting Locations:
6 MONDAYS, OCT 14 - NOV 18, 7-9 PM
CHURCH OF OUR REDEEMER 
6 MERIAM ST, LEXINGTON, MA

6 FRIDAYS, OCT 18 - NOV 22, 10 AM - NOON
FIRST PARISH OF LEXINGTON CHURCH 
7 HARRINGTON RD, LEXINGTON, MA