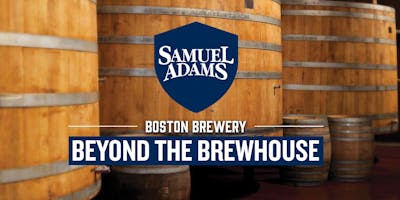 Beyond the Brewhouse
Duration: 55 minutes
Time: Mondays through Friday @ 1:00pm
Ages 21+
Cost: $25**
This tour is ideal for those looking for a unique brewery experience, and especially for Belgian and sour beer fanatics! Join us for our Beyond the Brewhouse Experience on Mondays, Tuesdays, Thursdays, and Fridays to go behind the scenes of our Classic Brewhouse Tour and enjoy a first-hand experience in our Barrel Room. Not open to the public, this fermentation cellar is the heart of our innovation and experimentation at the Boston Brewery and home to three 130bbl Hungarian oak tuns that age our signature sour Kosmic Mother Funk®.  
Inside our Barrel Room we'll explore a wide range of Belgian style brews, and learn what brings these and other exclusive specialty beers to life. You'll learn professional appraising techniques for high end beers and sample barrel aged varieties unavailable on our classic tours including our specialty sour, Kosmic Mother Funk.
Ticket Tiers
General Admission, $25 --- Your ticket includes a guided flight from out our Barrel Room Collection and one specialty 5oz Belgian Tasting Goblet
Sorry no refunds
*Please check-in with our tour desk 15 minutes prior to the start of your tour. North American photo ID or Passport required.
**additional pricing packages available.
A Monday night version of this experience is available at 6pm featuring Beer and Chocolate pairings. Tickets:
https://www.eventbrite.com/e/beer-and-chocolate-experience-tickets-59549085919
FAQs:
How can I contact the organizer with any questions?
Please email tourrequests@bostonbeer.com with any relevant event questions.