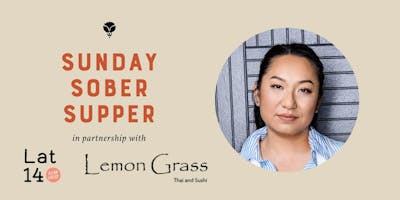 Sunday Sober Supper - Lao Pha Kwan Dinner
Join us on Sunday, October 13th for our second installment of our Monthly Sunday Sober Supper Series in partnership with our local restaurant colleagues. This month we are thrilled to welcome Chef Ann Ahmed of Lat 14 Asian Eatery and Lemon Grass Thai and Sushi, who will be preparing a Lao Pha Kwan Dinner along with the Baci Ceremony.
Pha Kwan (the blessing tree)
The Lao people believe that the soul has 32 components which can become imbalanced. The baci reinforces the soul and the community, and involves all the gathered into making prayers and well-wishes symbolized by silk or cotton threads which are tied around the wrists.
Why Baci Ceremony?
Lao people believe that a human being is a union of thirty-two organs, each has a spirit or Khuan (Lao word for spirit) to protect them. These spirits often wander outside the body causing unbalance of the soul which might lead to an illness. The tying of the white string represents tying of the 32 spirits to the body putting them back in harmony as well as bringing good luck and prosperity.
What is the Baci ceremony for?
The ceremony is also held on many different occasions and also to raise spirits when someone is weak (physically and spiritually) as a form of healing.
The Baci ceremony finishes when everyone has tied the white strings around everyone else's wrists or when the white string has run out.
All are welcome to this community dinner not just our friends and colleagues bravely in all-stages of their recovery journey but also those who are sober curious.
The meal will be Family Style consisting of:
Duck Laab
Minced Duck seasoned with a chili lime fish sauce dressing topped with Crispy Fried Duck Skin
Kaeng Som
Duck soup with Tamarind and cherry Tomatoes
Yum Salad Lao
Arugula, spinach, baby gem and endives tossed with in a creamy egg yolk almond butter dressing
Khua Mee
Lao Fried Noodles with bean sprouts, scallions and fried eggs
Coconut Lotus Cookie

About our Sponsors:
A special thank you to our Sunday Sober Supper Sponsors: US Foods, Peterson Meats, Red Hen Gastro Lab, Hairless Dog, Earl Giles, Lat14 Asian Eatery, Lemon Grass Thai and Sushi, The Fish Guys and our Media Sponsor MSP/St. Paul Magazine.
About Chef Ann Ahmed:
Chef Ann Ahmed, of Lat 14 Asian Eatery and Lemon Grass Thai restaurants is a lifelong gourmand with a passion for the heat of the kitchen. Growing up in a restaurant family she has been blending cuisines and experimenting with flavors since childhood. After moving to San Diego, Chef Ahmed came back to Minnesota to open Lemon Grass in 2005. Growing Lemon Grass from a small ten table operation to a full blown full-service restaurant allowed Chef to further explore her culinary talents. Her passion for the cuisines of South East Asia and creativity in the back of house led her to open Lat 14 in 2018 to critical acclaim. Lat 14 continues to blossom and blend Laotian, Thai, Vietnamese and Filipino foods with a distinctive Minnesota twist.
About the Nourish Series
The Nourish Series is a collection of events that focus on promoting personal and professional growth by bringing the community together through food and conversation.
The Nourish Series is presented by The Lynhall and benefits The Long Table Fund.