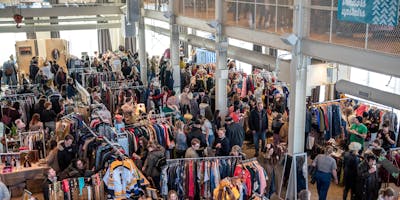 Minneapolis Vintage Market - October 2019
This page is for approved Minneapolis Vintage Market traders only. If you are a vintage vendor who would like to participate in the market, please apply via our website at mplsvintagemarket.com

Join us for the October edition of Minneapolis Vintage Market as we return to Machine Shop! We're thrilled to return to the hottest event venue in town with our largest indoor marketplace of the year! This beautiful venue has room for even more wonderful vintage vendors, making it a mini-city full of vintage treasures!
Brought to you by the team behind Minneapolis Craft Market, Minneapolis Vintage Market is a monthly marketplace focused on premium vintage and one-of-a-kind treasures. The market is mobile and pops up at venues throughout the Twin Cities featuring a rotating selection of vendors each month.
Set-up information
Location: indoors
Booth size: 8x8'
Booths available: 45
Double booths available: Yes. Please select two booths from the drop downwhen selecting your ticket type.
Load in time: 9:30 AM - 11:00 AM
Early bird presale (ticket holders only): 11:00 AM - 12:00 PM
Market hours (free general admission): 12:00 - 5:00 PM
Registration deadline: 8:00 PM, Sunday, October 6, 2019 (unless sold out before)
Notes: Vendors are to provide all their display items including tables, chairs, racks, etc. 6' Tables are available to rent from the market for $10 each. Please visit the FAQ page of our website for tips on set up and which items to bring with you.
Details including load-in times and directions will be sent out on the Tuesday before the market.
Questions: Please email holler@mplsvintagemarket.com
Photo: Kianna Notermann