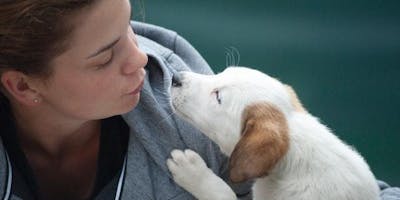 Puppy Yoga
You and everyone you know is invited to celebrate October's dual Breast Cancer and Adopt a Shelter Dog Awareness Month by joining us for Puppy Yoga (yup, we have pets on the brain)!  We will be at the YogaMN studion in Plymouth with a Blooma Yoga instructor,who will lead us through a yoga session while puppies from Midwest Animal Rescue run and play around you!
PLEASE BRING YOUR OWN MAT! 

If puppy cuddles are more your thing, join us after yoga for puppy social hour from 11am - Noon. You'll enjoy puppy love, Dunn Brothers coffee, Athleta Activewear 20% off coupons and clothing showcase, conversation, treats (for you, not the puppies!), and door prizes. 

Suggestion donation of $30 will be split between Firefly Sisterhood and Midwest Animal Rescue.
EVERYONE (age 12 and up) is welcome to attend! 
Sponsored by:
YogaMN, Blooma Yoga and Midwest Animal Rescue