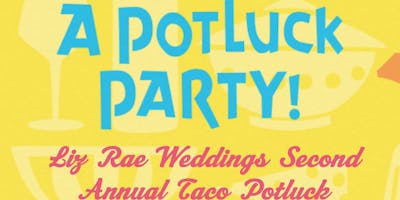 Liz Rae Weddings Second Annual Taco Potluck
We're hosting our second annual potluck! Bring your friends, families, children, and whoever else you would like. The theme for this year will be tacos!
We'll provide the utensils, main meat dish, the venue and entertainment. Please note that the facility, while indoor, does not have a kitchen, so food will need to be prepared ahead of time. There is electricity and indoor bathrooms. Sadly no alcohol is allowed. 
For activities this year, we'll have an Instax Photobooth, board games, an awesome playlist, and coloring for the kids. 
Dinner will begin at 6pm. 
We are requiring a $5 donation to The Trevor Project this year that is nonrefundable. All funds collected will go directly to The Trevor Project. Thanks for helping us support them!
Please RSVP by October 1st so we can plan out activities accordingly! :) 
If you have any questions, send us a message at liz@lizrae.com or a text or call at 612-865-5039.
We can't wait to see everyone!
** We know that some of you are out of state now (congrats on the move)! We still wanted to invite you so you feel welcome, even if you can't attend.**