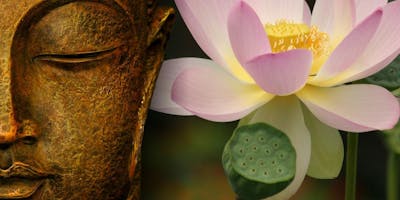 October 13th 2019: Family Practice Class with Baruch Golden, Julie Goshe, Michele Ku and Eve Decker



Family Practice Class: 

Opening the Heart through the Buddha's Teachings



Led by

Baruch Golden, Julie Goshe, Michele Ku and Eve Decker
For Children Ages 0-13 and Family / Caregivers
Sunday, October 13th
10:00 am – 12:00 pm
East Bay Meditation Center 
285 17th Street, Oakland, CA
We invite you to come and be a part of the diverse family sangha at EBMC.  We welcome families with babies, toddlers, and children up to age 12. Children under 5 will need to have a parent/caregiver stay with them. We gather to create a safe refuge to share the joys and the challenges of parenting by cultivating loving kindness, compassion, patience and generosity with the support of the sangha.  It is a wonderful opportunity to have family time without digital distractions and to learn mindful practices for the whole family. Parents/caregivers and children meet together and sometimes separately during the class. Families with children under the age of 5 meet in a mindful playgroup. We are committed to creating a diverse family sangha, all families are welcomed.  No prior experience is necessary.
Please note, each family only needs one registration. Thank You!
---
EBMC TEACHERS ARE NOT PAID BY THE CENTER . You will have the opportunity to offer a voluntary financial gift to them at the class. In order to protect the health of community members with environmental illness, please do not wear fragranced products (including natural fragrances) or clothes laundered in fragranced products to EBMC.
---
Teacher Bios 
Michele Ku is a long-term Vipassana practitioner and a parent. She teaches Mindfulness Based Stress Reduction to adults at Kaiser Oakland. She also has taught mindfulness to children in elementary schools through Mindful Schools. She is co-founder and peer leader of a small family sangha for families of color and multi-racial families in the east bay facilitated by parents. She is a graduate of Spirit Rock Meditation Center's Community Dharma Leaders Program in 2012. Her main spiritual practice is bringing mindfulness to everyday life and within the family.
Eve Decker performs and records original songs based on Buddhist teachings, leads dharma music singing circles, and presents daylong programs on dharma and music throughout Northern California. A Vipassana and Metta meditation practitioner for 20 years, Eve is a graduate of the Community Dharma Leaders and Path of Engagement programs at Spirit Rock Meditation Center.
Baruch Golden is a long-time practitioner, hospice RN and mindfulness teacher. He taught mindfulness practices to children in elementary, middle and high school for the non-profit Mindful Schools for many years and offers dharma talks at many Bay Area sanghas. He is a graduate of Community Dharma Leader's Program in 2012 at Spirit Rock and the Buddhist Chaplaincy Training program at he Sati Center of Buddhist Studies in Redwood City.