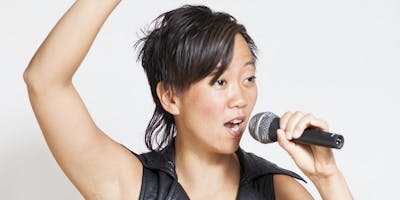 Free your Voice with Amber Field
Sing, sound & speak your truth with more confidence and freedom! From the silly to the sacred, open in ways you haven't imagined and make long lasting shifts in your life.
This fun, playful workshop includes classical singing techniques including how to breathe properly, sing in a way that is healthy for your throat, and project; meditations to open the chakras; devotional chanting; mantra; spirit songs; expressive arts; and improv. Tune your body, your instrument and your voice with others. Experience the healing and transformative effects of sound vibrations. All levels welcome including absolute beginners.
- Develop more confidence in your voice
- Learn new mantras, chants & songs
- Experience the healing power of sound
Amber Field was featured in San Francisco Magazine's Best of the Bay for yoga music and has performed and taught at Wanderlust, Esalen, and the Yoga Journal Conference. She plays many world instruments and sings like an angel. Amber delights in freeing people's voices and seeing how their lives change! More info: www.amberfieldmusic.com
Cost: $35 before/ $40 day of
You can register HERE if you prefer

Testimonials:
 "Amber is not only a kind and patient person, but they teach with the expert grace of a seasoned therapist and musician combined."–Michael F
"Amber leads you through a supportive, fun, creative process that will not only improve your singing but also will change your life."–Alison H
 "Amber Field's Free Your Voice Workshop was absolutely astounding. They are incredibly skilled at quietly creating a safe space and gently encouraging people to explore and find their truth, then openly express it. So many times at the end of the class people would voice their delight at being given the space to "play" which, as adults with busy lives, we rarely have. Whether you are a professional singer or have never sung a note in your life you will benefit from this workshop. Sign up NOW!!! You won't regret it. "–Colleen Browne
"Amber held a beautiful, safe, no judgement space for everyone to grow, learn, heal, sing, play, laugh & even cry"–Valerie C
 "I recommend this class! Amber created a supportive space for learning, stretching, listening, and curiosity. I haven't grown up with much variety in rhythms and it's fun to realize there is more to life than a 4×4 rhythm ;). I appreciate how you're able to create a community while at the same time encourage the individual within it."–Lucy A