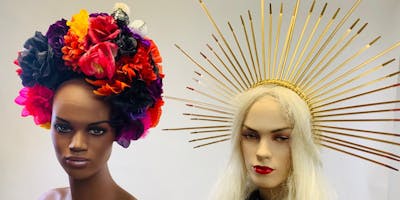 Make a Custom Day of the Dead Headdress
As Fall approaches, it's not too early to start thinking about Autumn events like Day of the Dead celebrations and Halloween. Get creative this year and make your own headdress. 
In just 2 hours you will leave with a wearable art piece that you can enjoy for years to come. If you have any, we suggest you bring some momento(s) of loved ones to add to your headdress. 
No previous crafting experience necessary. Only skills required are the ability to use a glue gun.
The class is offered weekly, which you can book here on Eventbrite.

Or if you want a different day or time or want to bring a group for a special event, you can book a private group by emailing us.
At each class, one of the instructors on our team will guide you through the steps of making a headdress. We provide high quality artificial flowers and other materials so that your headdress will last for years. Plus we have other materials like shells, pearls, butterflies, feathers, ribbons, sparkly things and more! 
Light refreshments are included.
Cost is $60/persosn.