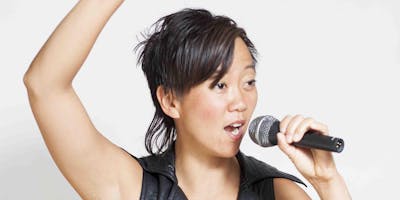 SF Free Your Voice: Initiation 10 wk class
Video trailer of the course https://vimeo.com/351086808
Sing, sound and speak your truth with more confidence and freedom. From the silly to the sacred, open in ways you haven't imagined and make long-lasting shifts in your life. This fun, playful 10-week course will explore:

- Healthy, functional vocal technique
- Proper breathing and support
- Sound Meditations to open the chakras
- Devotional chanting
- Mantra + spirit songs
- Expressive arts and improvisation
- Freedom songs
- Lots of play
- Community building exercises
- Joy! 

Tune your body, your instrument and your voice with others. Experience the healing and transformative effects of sound vibrations as we free our voices, creativity and spirits together! Singing is one of the best activities for you (both calming and energizing) and doing it in group release oxytocin, dopamine, and endorphins. You will bond with your classmates and make friends! 
All levels welcome, including absolute beginners
Free Your Voice: Initiation with Amber Field
10 Sundays Oct 13-Dec 15, 5-6:30pm, 2141 Mission St. #204, 1 block from 16th Mission BART
$350. For more information and to register: https://amberfieldmusic.com/teaching/

Bio: Amber Field is a queer, non-binary Korean American teacher, performer and sound healer featured in SF Magazine's Best of the Bay for yoga music. They are a Tamalpa Associate Teacher of expressive arts. Amber studied Western and Indian classical music and specializes in world fusion music. Amber has performed and taught at Esalen, Wanderlust, Hollyhock, SF Int'l Arts Festival, UC Berkeley, UC Santa Cruz, and more. They delight in freeing people's voices and seeing how their lives transform. http://www.amberfieldmusic.com
Testimonials:
"Amber Field's "Free Your Voice" Workshop was absolutely astounding. They are incredibly skilled at quietly creating a safe space and gently encouraging people to explore and find their truth, then openly express it. Whether you are a professional singer or have never sung a note in your life you will benefit from this workshop. Sign up NOW!!! You won't regret it."--Colleen Browne
"Amber's class is one of my favorite things I've done for myself as an adult. Throughout the ten-week Free Your Voice course, I learned how to be more honest, creative and vulnerable. But mostly it was just *so* much fun."--Hanna J

For other reviews:
https://www.yelp.com/biz/amber-field-music-albany-3
http://www.amberfieldmusic.com/