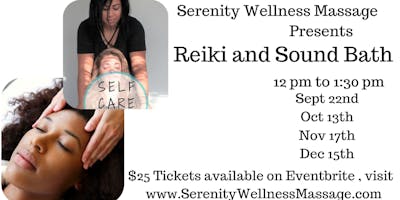 Reiki and Sound Healing Circle
We will begin with some light vegetarian refreshments and then ease into a guided meditation. Everyone will receive a hands-on Reiki treatment, using singing bowls, chimes and other instruments throughout the session to bring peace and calmness to the mind and body. We will end together by sharing our experiences. 

For those new and curious about Energy (Reiki) medicine, this is a great opportunity to learn and explore in a safe and nurturing environment. 
 Who should attend?
 Anyone experiencing anxiety.
Anyone feeling depressed. 
Anyone feeling socially anxious. 
Anyone needing a holistic alternative method to easy mental fatigue.
Anyone suffering from insomnia, or sleep deprived.
 ABOUT THE ORGANIZER
Latoya is a holistic Massage Therapist and Esthetician with over 10 years of experience. After graduating at the top of her class and voted most to success by her instructors and fellow peers. Latoya worked as a massage therapy technique Instructor in Medford and currently offers integrated deep tissue massage and holistic skincare services in her private practice located in Somerville.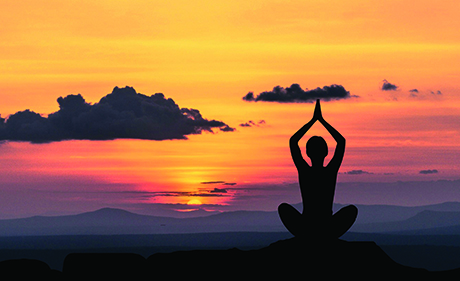 Reiki is a Japanese technique for stress reduction and relaxation that promotes healing. It is a form of energy healing and complementary therapy that addresses the root of ailments such as insomnia, aches and pains, emotional and mental distress, and general dis-ease.
Stress, trauma and illness restrict the natural flow of ki or "life force energy" through the body. By restoring the flow of life force energy through the body, Reiki rejuvenates the body's ability to relax and, therefore, supports the body's ability to heal itself.
At Serenity Wellness Massage, we use proven Reiki techniques to channel energy to the parts of your being that need it the most. This channeling allows you to tap into your Higher Self, providing the body with the boost it needs to heal itself and push through obstacles.
Reiki is a wonderful treatment on its own, helping to restore and rejuvenate the body, mind and spirit. It is especially effective when paired with other therapeutic treatments. Regular Reiki sessions allow other therapeutic treatments to take a deeper hold, facilitating healing and helping you move forward along life's journey.
Dress in comfortable attire and feel free to bring a notepad, a pen, and a water bottle. We will start promptly, please arrive 5-10 minutes early to sign in, eat some light refreshments and get comfortable. No experience is required. All are welcome. Come to receive and learn.
Our space can accommodate up to 6 people, so please RSVP & pay via Eventbrite OR call to pay by phone to reserve your spot.
Cost: This workshop is $25 pre-registration via Eventbrite, or $25 at the door (cash)
Thank you for your interest and participation.
If you can't make it to the workshop or Reiki share this month and would like to book a Reiki healing session, Serenity Wellness Massage is having a promotion for 15% off of a regular priced healing session. Mention this promotion when scheduling your first appointment with me.
What attendees have said about their experience at Reiki and Sound Healing Circle at Serenity Wellness Massage.
"I was able to recall memories of my childhood, it was a pleasant experience." ~ Tracy
"I saw myself in another life delivering babies in a village, it was so cool." ~Roxanne
"I felt so peaceful and relaxed I forgot I had legs." Liz