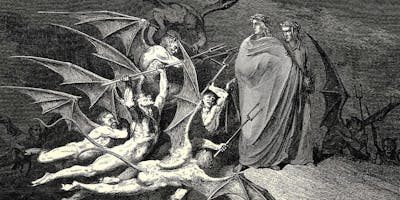 Dante's Inferno (1911) - Live Score by Maurizio Guarini (GOBLIN)
Maurizio Guarini, founding member of the synth-horror group GOBLIN, will be making his Salem debut performing a live score to DANTE'S INFERNO.

Released in 1911, Dante's Inferno was the first-ever feature length film produced in Italy. A surreal and still-shocking adaptation of the most infamous section of Dante's The Divine Comedy, the film follows Virgil leading Dante through the nine circles of Hell as a framing device for a series of spectacular scenes, striking and unusual visual effects, astounding sets, and a huge cast of extras (often naked or barely clothed).