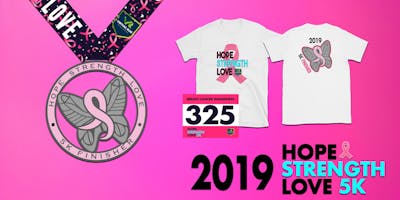 2019 HOPE STRENGTH LOVE Virtual 5k Run Walk - Rochester
2019 HOPE STRENGTH LOVE VIRTUAL 5K RUN WALK
Breast cancer affects over 200,000 women and over 2500 patients annually. Early detection is an important element of improving survival. Let's beat those odds. When caught early, the five-year survival rate for breast and ovarian cancer can be greater than 92%. The Virtual Run Challenge Hope Strength Love Virtual 5k goal is to help raise awareness and money to fund research, support services, and early detection.
HOW TO COMPLETE:
Find Your Motivation and Sign up
Run or Walk; Indoors or Outside. You can also complete your challenge in multiple parts or all at once.
Submit your results and earn your medal. If using your fitness tracker take screenshots or photos showing the distance you have covered to submit as your evidence to results@thevirtualrunchallenge.com or manually submit on our RESULTS page.
Share your achievement with your friends and tag us @virtualrunchallenge #virtualrunchallenge
Register for your next race!
www.TheVirtualRunChallenge.com