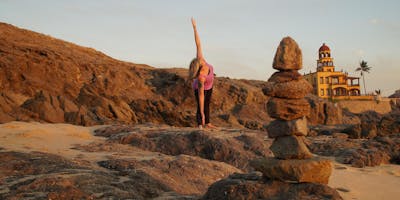 Yoga with Pam - 6 Class Session - Tuesdays 5:30pm - October 1st - November 5th
* This is a 6 session class - Register for October 1st and you are signed up until November 5th.
(6 weekly classes 60 minutes each - Tuesdays at 5:30) 
* If you'd prefer to sign up in person or by phone, Please contact Sun Acupuncture - (952) 935-0600
* Drop In Classes are $13.00 - Contact Pam before coming to confirm an open spot - (952) 465-7562
Yoga Flow This asana practice flows through postures designed to align and calm your body, mind and spirit. With an awareness on breath, alignment of the body and opening of the energy meridians you will cultivate awareness of the body actively building core strength and flexibility. This class will allow students to explore postures and gain confidence with their practice. Breathing and relaxation techniques are incorporated throughout, promoting a balance between relaxation and physical challenge.
Benefits include: Increased strength, flexibility and balance. Improved concentration and mental focus. Reduced stress and improvement within the metabolic, immune, digestive and circulatory systems. Breathing practices will help reduce anxiety and stress as well as increase your lung capacity. 
All levels welcome; variations will be given to accommodate all levels of yogis. 
*If you have any medical concerns, consult your doctor before joining class.
Bring a mat and wear comfortable yoga clothing.
* Drop In Classes are $13.00 (Call ahead to check if spots are available!)
* If you'd prefer to sign up by phone, Please contact Pam - (952) 935-0600