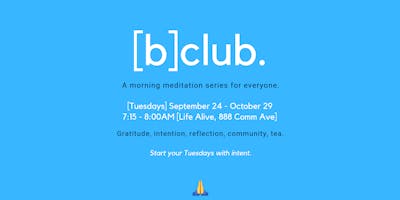 [b]club: 6-Week Morning Meditation Series, all levels welcome!
"[b]club is literally the place to [b]. Whether you are new to meditation or have been practicing it for a while, I assure you you will learn something new and get the chance to be a part of an amazingly close-knit group of people. Sarah's energy, positive vibes, and enthusiasm is honestly the best way to start out your day!" 
Join the third session of [b]club, a morning meditation series for everyone. 
[b]club is designed to help you find meditation that works for you, while building a community of likeminded and supportive people.
For 6 weeks, we'll meet every Tuesday morning in the blue room at Life Alive Cafe for guided meditation, journaling, and discussion.
Whether you've never meditated before or you've been doing it for 20 years, [b]club is a space for you to kickstart or deepen your practice in an effort to live a more mindful, intentional life. Limited spots are available in an effort to keep this a close-knit, comfortable community!
SESSION DATES


September 24


October 1


October 8


October 15


October 22


October 29


FREQUENTLY ASKED QUESTIONS!



What's included? 6 morning sessions led by Sarah Gaines, tea at every session, a journal for writing and reflection





Can I sign up for just one week's session? [b]club is specifically designed as a series so you are pre-committed to a six week routine and therefore, don't have to think about making meditation a natural part of your life. You've already committed to showing up, now you just need to do it! Further, having the same group show up six weeks in a row will build the community and place of comfort that is [b]club!





Are we going to meditate for all 45 minutes? No! Each 45 minute session includes a combination of guided meditation, journaling, and conversation. 






Who is [b]club for? Anyone and everyone. [b]club is a place to start your meditation practice or deepen it. 





Why should I join [b]club? Because you want to find a way to make meditation work for you; because you want to commit to making meditation a regular part of your routine; because you want to meet other people doing the same; because you're looking to add more intention, gratitude and support into your life.


Please reach out to Sarah at gaines.sarahj@gmail.com with any questions directly.