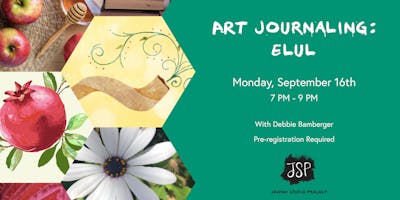 Art Journaling: Elul
Art Journaling: Elul
Join us during this time of reflection as we emotionally, mentally, and physically prepare for the High Holidays through creative expression!
Art journaling is a way of expressing yourself creatively in a book. Anything goes in the pages of your art journal: painting, collage, sketching, writing, quotes, poetry, scribbles, anything! All supplies provided, though if you have a journal you are already using, you are welcome to bring it and use it for the class.
No prior experience or workshop attendance necessary, new folks welcome and encouraged.
Debbie Bamberger started art journaling two years ago with no prior art background. She had no idea how transformative it would be, and she wants to share it with everyone! Debbie lives in Berkeley with her husband and two sons.
A note about Studio accessibility: There are three steps into the building and the bathroom is not ADA. If you have other access needs please be in touch directly.