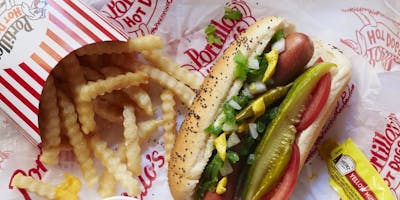 Atons September 2019 L & L Dinner - Portillo's (Roseville)
Join us for dinner in September, at Portillo's in Roseville.  This Chicago hot dog chain recently started opening stores in the Twin Cities, and it's some great comfort food!  The restaurants are huge, so we can fit quite a few people, but we'd still like you to RSVP so we can make sure they know how many of us to expect!
Please RSVP by Friday afternoon, September 13, 2019. If you have any questions, please send an email to activities@atons.net.
You can get more information about Portillo's in Roseville on their website: https://www.portillos.com/locations/roseville/
FAQs
What should I wear?
You can wear whatever you want. You don't have to wear leather and denim, but you are welcome to if you want. But please remember that this is public space.
Who is welcome to come?
We welcome everyone from the leather and kink communities to join us for our monthly L&L socials. You don't have to be a member of a club.
What is the cost of the Event?
Eventbrite Tickets are free (to reserve your seat). You will be responsible for your own bar/restaurant tab.