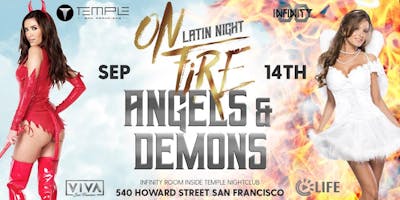 ON FIRE - Latin Event In Infinity at Temple By VIVA and LIFE Productions
SATURDAY, SEPTEMBER 14TH
ON FIRE LATIN NIGHT "ANGELS & DEMONS"
IT'S YOUR CHOICE TO DECIDE WHICH
SIDE YOU TO TAKE...
#ALLPEOPLEAREWELCOME

-NOVELTY CUP SPECIALS ALL NIGHT
-FREE PARTY STUFF

"On FIRE" Latin Night Presented by VIVA & LIFE Events at Temple Nightclub inside of Infinity Room(Lower Level).

PLAYING THE BEST OF LATIN MUSIC
(Reggaeton, Salsa, Latin Pop Dance, Brazilian Funk, Top20,
old and new Latin hits and more).

VIP TABLE RESERVATIONS:
Call / Text: (415) 676-8890
(SPECIAL DEALS PRE-BOOK ONLY).

INFINITY LOUNGE
Surround yourself with alluring people, flavorful libations, and beautiful beats in an intimate setting within Temple SF.
Join us, lose track of time, live in the moment and dance with us.
We'll bring you the luxurious sounds, a Martin Audio sound system and 22.000 programmable LED lights FOR YOU!

Follow us on Instagram:
LIFE events / @lifesfevents
VIVA SF / @viva.latin.events
ON FIRE / @onfire.sf.latinnight
#SFLatinProductions

"The Key to Infinity"

DRESS CODE ENFORCED | +21
(No Baggy Clothing - No Caps - No Sandals - no tennis shoes).