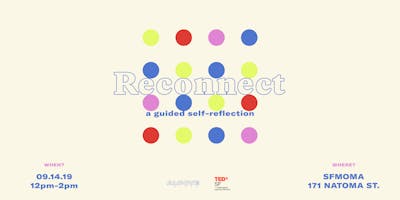 Reconnect: a guided self-reflection (Alcove & TedxSanFrancisco Workshop)
Reconnect: a guided self-reflection
"I'm doing job X and earning an amazing salary Y, but it hasn't been fulfilling lately."
"I live quite a balanced lifestyle — going to the gym in the morning, walking my dogs in the evening, spending time with my loved ones, and reading before bed — I feel like I'm doing everything right, but it feels empty."
"I'm busy jumping from one project to another, but I still feel listless from time to time."
These are signs of existential crisis we have been hearing. How can we, young adults, struggle from finding fulfillment when there are endless options for career and lifestyle with the emergence of new technology and platforms? What is the life we actually want to live? What is it that we need to change in our lives to feel fulfilled? Join Alcove and TEDxSF to reconnect with yourself and navigate through the noisy world of the 21st century.
After the workshop, you will


Feel a deeper connection with yourself and feel prepared to take actions to live the next day more intentionally.


Be more convinced that you can achieve something greater than yourself, and equipped with the mental models to do so.


Understand that learning is a lifelong process and acquire frameworks to understand yourself and your perspectives that shape your reality.


About Alcove
Alcove provides a space for young people to combat the modern struggle of existential crisis. Founded by Tina He and Mind Apivessa, it is an initiative started at Cornell University to help people reconnect with their purpose. Our vision is to rethink self-development for our generation by first tackling the existential crisis experienced by young adults.
About The Facilitators
Tina is a transdisciplinary creator devoted to empowering the next generation of impactful ventures. She's an avid advocate for radical self-awareness and the power of life design. In the past, she's designed products and experiences for Facebook, GrubHub, and Bloomberg as well as a wide variety of venture-backed startups. She is currently an investor at New Enterprise Associates looking for better ways to find, generate, and execute great ideas.
Mind is a practicing product designer and educator, exploring the ways design can advance purpose-driven lifestyles and businesses. She believes in the power of self-awareness in unlocking one's potential and developing empathy. Previously, she designed products and learning experiences for IBM, Thai Airways and Enpeo Consulting, co-instructed a design class at Cornell University, and will be joining Facebook's design team in the fall.
Please feel free to reach Alcove at info@alcove.world and sign up for the mailing list to stay updated at alcove.world. 
You can also email the TedxSanFrancisco Volunteer Team at community@tedxsanfrancisco.com.
Feel free to invite your friends and extended network! There is a limited amount of seats, so please let me know if you have signed up and then cannot attend so we can open that space up again.