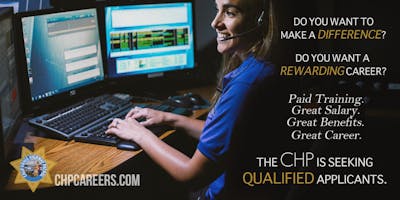 CHP Dispatcher Recruitment Seminar
Public Safety Dispatchers are the critical link between our Communities and responding Law Enforcement Professionals.  A valuable part of the California Highway Patrol Family, our Dispatchers are professional, articulate, and cool under pressure.  Interested in joining our team?  Please feel welcome to attend our CHP Public Safety Dispatcher Recruitment Seminar. 
Dress code will be Business Casual.  See you there!