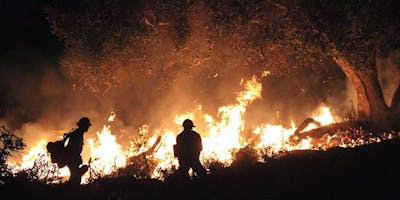 Wilder Than Wild: Film Screening and Panel on Wildfires in San Mateo County
Join Peninsula Open Space Trust (POST), and San Mateo County Parks for a free movie screening and discussion of local efforts to manage open space and forest lands to reduce fire risk. In the film Wilder than Wild, filmmakers take us on a journey from the Rim Fire of 2013 to the Wine Country wildfires of 2017. This exploration reveals how fire suppression and climate change have exposed our forests and wildland-urban landscapes to large, high-severity wildfires and also explores strategies to mitigate future disasters. We'll then have a panel discussion on local efforts to manage open space and forest lands to reduce fire risk.
Agenda



Doors will open at 6:30 p.m. Come early to meet other nature lovers and representatives of local conservation organizations.



The film will start promptly at 7:00 p.m. The film's run time is 60 minutes.



A panel discussion will follow the film. Experts from local agencies will discuss their efforts to manage fuel loads and reduce fire risk on our open space and wild lands. 


This event is part of POST's community event series. These events are open to the general public and POST donors alike, and we hope you will join us! We also curate a separate series of private events for our donor community. Find out more about how you can support POST here: openspacetrust.org/support
About the Film
WILDER THAN WILD: Fire, Forests and the Future is a documentary that reveals how fuel build-up and climate change have exposed Western wildlands to large, high-intensity wildfires, while greenhouse gases released from these fires contribute to global warming. This vicious cycle jeopardizes our forests and affects us all with extreme weather and more wildfires, some of which are now entering highly populated wildland-urban areas.
Highlighting these issues with personal experience, filmmaker Kevin White takes us on a journey from the Rim Fire of 2013, which burned 257,000 acres in the central Sierra, to the wine country wildfires of 2017, which destroyed 9,000 buildings and killed 44 people. Along the way, we learn how the proactive use of prescribed fire can reduce reliance on reactive fire suppression, we see a California tribe renew their tradition of cultural fire, and we meet stakeholder groups working with scientists and resource managers to build consensus on how to restore and manage the lands we love and depend on.