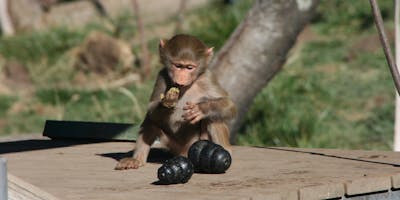 Baboon Enrichment Experience at Oakland Zoo
A once in a lifetime opportunity to see our baboon troop behind the scenes.  You will view the family safely through the glass in the their night quarters while learning about how keepers care for our baboons and encourage natural behavior and social structure within the group.  Then you will accompany keepers into the the (empty) exhibit to help place food and enrichment throughout the 8000+ sqft habitat.  Before the baboons get to relish in the spoils, you will be escorted to a reserved spot on the viewing deck to observe them enjoying the fruits of your labor.
The baboon exhibit is on a very steep hillside so visitors should wear sturdy, closed-toed shoes and be able to navigate uneven ground. While animal enclosure will be cleaned prior to your experience, it will not be completely sterile and visitors may encounter strong odors and some sights that people might find offensive (urine, dead animals as food, feces, etc). All participants must be 6 years or older, minors under 12 must be accompanied by a paid adult. For the safety of staff and patrons, all participants will be required to follow staff instructions during the event. Failure to follow guidelines will result in immediate removal from the experience without a refund. Experience lasts approximately 20 minutes.
*Baboon Experience ticket does not include zoo admission*
After your Baboon Experience is complete, spend the rest of the day enjoying Primate Discovery Day and learning all about primates through Chalk Art, Face Painting and primate stations throughout the zoo.  
Purchase a Primate Discovery Day T-shirt  online!  
All Proceeds from Primate Discovery Day benefit the Budongo Snare Removal Project.