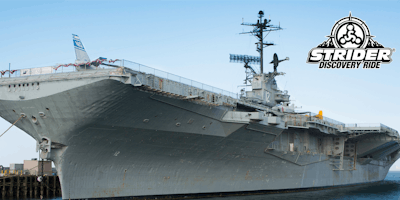 Strider Discovery Ride - USS Hornet 2019-09-14
Strider Discovery Rides are unique, non-competitive, and exclusive events that take place in some of the most unconventional places across the globe. Strider Discovery Rides aren't open to the general public and can be limited in how many riders may participate depending on the venue. These aren't competitive races, but unforgettable rides where parents and their children can explore unique and inspiring venues (i.e. San Diego Zoo, Washington DC, Smithsonian, Charlotte Motor Speedway, Mount Rushmore, etc.). Strider Discovery Rides are high profile rides that offer parents and Strider riders an opportunity to come together and share their passion with new friends in a one-of-a-kind venue that families otherwise wouldn't be able to access!
This year's Discovery Ride will be held at the historic and iconic USS Hornet in Alameda, California.  Come and experience the stunning power and awe of the USS Hornet aircraft carrier.  Experience what it's like to work, live and ride on this unique piece of American history!
This exclusive event is limited to the first 25 entrants (Strider riders)  so register today!  All riders will receive a souvenir number plate, a cool branded shirt, a catered lunch, and other fun registration bag goodies!  Registration is online only while supplies last.  No registrations will be taken on ride day.  Registration will close once our limit of 25 Strider riders is reached. Unless the registration limit is hit online registration will be closing on September 9th at 9:00 p.m. Pacific Time.
This event is for Genuine STRIDER Bikes only (Strider 12 and  Strider 14x in balance bike mode) so bring your bike!  No other balance bike brands are allowed. 
This event is for Strider riders age 3 years old through 6 years old.
Strider riders (ages 6 and under) are free to register.  For accompanying people the following ticket prices apply:
Adults (Age 18 - 64) = $20.00
Seniors (Age 65+) and Military = $15.00
Youth (Age 7 - 17) = $10.00 
Please note that only your registered Strider rider will receive an official registration bag, number plates, shirt, etc., not any ticketed siblings.  They also will also not be allowed to ride bikes during the event.  Siblings older than 6 years old are welcome to register and join in but all of the activities planned are for the registered Strider rider.  Siblings and adults can take part in the tour of the USS Hornet, enjoy and cheer on their Strider rider and will be provided a complimentary lunch with their registration. 
Helmets are also required gear for your rider.  
Also a note about bags and carriers from the USS Hornet:  "For your safety and the security of the museum, backpacks and large bags (including camera bags) are NOT permitted.  Visitors will be asked to return backpacks and large bags to their vehicle. Please note: For safety reasons, backpack-style infant carriers are also not permitted."  This also includes strollers.   With that Strider will have a place on the pier that you can stash your bags, strollers if you would rather do that than keep those items in your car.
This event has no backup day in case of inclement weather.  In the case of bad weather, we will generally delay until it clears up or in the case of cancellation, a $50 gift certificate will be mailed to all affected riders.
The current schedule starts at 9 am and finishes at 12:30 pm on September 14th, 2019. 
The high-level schedule includes the following:
9:00 - 9:30 am: Packet pickup and activities on the Pier in front of the USS Hornet.
9:30:  Opening remarks
9:35: - 10:40:  Activities on the flight deck
10:40 - 11:30:  Tour of the USS Hornet
11:30 - 12:30:  Picnic and activities on the flight deck
The schedule will be sent upon registration completion.
The last hour of the event we will have a picnic on the flight deck and that lunch will be provided.