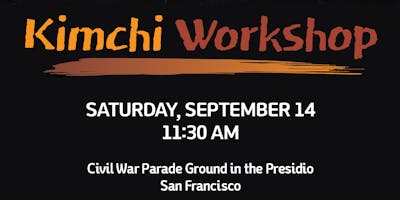 Kimchi Workshop, Korea Kimchi Festival
DIY Kimchi Workshop!
Kimchi is a traditional Korean fermented condiment made out of Napa cabbage, daikon radish, and red pepper flakes. In recent years, kimchi has gained popularity in the local food scene as a flavorful addition to soups, sauces, and more. In addition, kimchi has gained attention as a highly nutritious low-cal, high-fiber dish. In addition to being a storehouse of vitamins, it is loaded with highly beneficial antioxidants and probiotics!
Join us in San Francisco to learn the history behind the art of kimchi-making! Local chefs will walk you through the basics of fermentation and lead everyone in a hands-on demonstration.
Every participant will leave with your DIY kimchi and instructions for how to incorporate the dish into your kitchen!
Major Korean broadcasting networks, MBC and Media Purme with Consulate General of the Republic of Korea in San Francisco will host the event to share the cultural significance and excitement of kimchi-making to our community!
Spots are limited, RSVP now!
Early bird Free Ticket includes:
- 1-hour workshop
- Apron and headscarf
- Food Prep gloves
- Information & Recipe Guide
- Hands-on kimchi making experience
- DIY Kimchi and eco-friendly reusable tote bag! 
Admission with this early-bird ticket is free before 11:30am. This means that you must present your ticket to the registration before 11:30am. Late arrivals, those still in line, and those who have not reached the registration by 11:30am may not be guaranteed to admit. Extra early arrival is strongly advised.
Please bring valid ID | Please PRINT your ticket or have it ready on your mobile device
Kimchi Festival
Saturday, Sept. 14, 2019 | 11:30AM
THE PRESIDIO Civil War Parade Ground, San Francisco