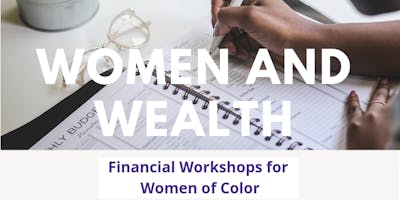 Women and Wealth: Financial Workshops for Women for Color
As women of color make economic strides as the fastest growing group of entrepreneurs, we also collectively owe over $800 billion student loan debt and are crippled by the pay wage gap.
It's important now more than ever that we learn the life skills and confidence needed to manage our money, reduce debt and build wealth.
We're partnering with Eastern Bank to host two financial workshops specifically designed to help women of color to conquer their unique economic challenges and gain control of their finances.
Saturday, September 14, 2019 (Small Business)
(Session I) 9:00am – 11am: Small Business: Understanding Your Finances
Your Income and Expenses
Session Purpose: This session will help you track and understand your income (money coming in) and your expenses (money going out). This session also:


Discusses different types of income and ways to receive income


Shows how to read a pay statement


Shares a tool for tracking income


Provides information and tools for tracking and managing expenses




Break: 11am - 11:30am Lunch
(Session II)11:30am – 1:30pm: Small Business: Preparing for Lending
Borrowing Basics
Session Purpose: This session covers options for borrowing money and what they cost. This session also:


Discusses how to borrow money


Covers borrowing when someone helps you manage your money


Sponsored by Eastern Bank