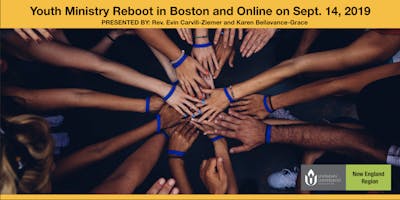 Youth Ministry Reboot in Boston and Online
A workshop designed for teams of youth directors, DREs, and lay youth advisors. 
PRESENTERS: Rev. Evin Carvill-Ziemer, Central East Region UUA and Karen Bellavance-Grace, New England Region UUA
Youth ministry is continually evolving and the pace of change is fast. Are you and your team prepared to meet the social, spiritual, and developmental needs of your congregation's youth today? Join us for  a practical overview of healthy contemporary youth ministry. Ground your team in a shared sense of healthy youth/adult partnership. Align your ministry around both safety and mission. This is a great workshop to attend with your team to orient new volunteers and get them ready to serve, and to deepen learning for your returning volunteers.
This workshop is one part of a multi-part Youth Ministry support initiative offered by our UUA this year, because Youth Ministry takes a team, and we want to be on yours! For the full set of offerings, please visit bit.ly/2019advisor.
Local teams may register to attend in person in the Chapel at UUA Headquarters in Boston. Teams from across the country can gather together in their own congregation - or gather with another team at a neighboring congregation - to livestream the workshop and engage in our conversations in real time.
Together we will:


Consider this moment of dynamic shifts in Youth Ministry


Explore and understand newly revised guidelines for healthy and safe youth ministry


Deepen our own spiritual growth through ministry with youth


Ground our youth work in our Unitarian Universalist faith


WHAT IF I DON'T HAVE A TEAM? This workshop is designed for teams of youth advisors, with their youth directors or religious educators, and is structured to include times for small group reflection. However, we recognize that some individuals may not currently serve on a team, or may have teammates unable to participate. Please contact us if you are in this situation, and we will recommend options for participating.
CHOICE OF LOCATIONS



PHYSICAL LOCATION:

UUA Headquarters in the Chapel, 24 Farnsworth St, Boston (

Directions and parking information

)





VIRTUAL LOCATION:

This event will be live streamed from the Boston site. Teams may gather in your church building or in a member's home to participate virtually. You will be able to see and hear the workshop in Boston in real time, and participate via live chat that will be visible to all. Your team will need a computer with a camera and dependable internet access. For best hearing and viewing, connect your computer to speakers and large monitor or projector. Online meeting information will be sent to you during the week before the event.



Join us online from anywhere: 11:00am - 4:00pm Central time, 10:00am - 3:00pm Mountain time, and 9:00am - 2:00pm Pacific time


ABOUT THE PRESENTERS: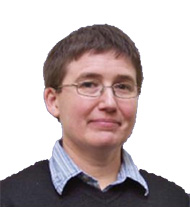 Rev. Evin Carvill-Ziemer serves the Central East Region in the areas of Youth Ministry, Young Adult Ministry, and Intercultural Competency work. They also serve our UUA nationally on the Youth Ministry Roundtable, where they were instrumental in compiling and updating the very best practices in healthy and safe Youth Ministry.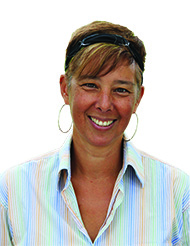 Karen Bellavance-Grace has served the New England Region for 8 years, and previously served as a religious educator. She was in the first class of Fahs Fellows, focusing on innovative multigenerational faith formation. She serves nationally on the Safer Congregations team and the Youth Ministry Roundtable.

REGISTRATION FEE: 
In-Person:


$25 per person for those attending at UUA Headquarters


$100 per congregational team of 4 - 6. Please contact us for registration assistance if your team consists of more than 6 people. 




Tickets includes access to presenters in person, coffee and refreshments, and the opportunity to meet neighbors


Online:


$20 per person for individuals attending online




$85 for a congregational teams of 4+ attending online


Teams may gather in your church building or in a member's home to participate virtually. We especially encourage you to team up with a nearby congregation so your teams can participate and reflect together.


While we know that not all individuals are in a position to pay these fees, since the learning is on behalf of the congregation, we hope that congregations will financially support participants to come. However, if these fees are prohibitive even to the congregation, please be in touch. We do not want cost to keep anyone away. Funds may be available to support attendance of those who cannot afford the full cost. Please contact us if this applies to you.
NOTE TO ALL IN-PERSON PARTICPANTS: Please bring your own bag lunch or plan to eat in advance. Hearty snacks and beverages will be provided in the Boston location. 
REGISTRATION CLOSES: Monday, September 2nd

CANCELLATIONS & REFUNDS: 





If you or a teammate needs to cancel a registration before the event, please contact us as early as possible, by one week before the event at the latest, and a refund will be provided less a $10.00 administrative fee. Within one week of the event refunds less a $10.00 administrative fee will only be given in the case of illness or emergency. Refunds will not be available after the event for non attendance. 

We ask for your understanding in respecting this policy, which supports our organizational efforts and expenses.



Replacement: There is no penalty for finding someone to replace you if you cannot come. Please let us know a week in advance if you cannot attend and will be sending someone in your place. Registration changes will be made up to the week of the event. 




The New England Region UUA may need to cancel an event in the case of low enrollment. We will contact you well in advance of the event and provide prompt, full refund of registration fees.